Soap Invented is the fourth puzzle in Virtual Villagers 4: The Tree of Life.
Requirement
Steps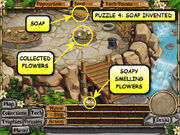 Look for the soapy smelling flowers (white ones) located to the left of the lab bridge.
Drag a child to the flowers and they will collect three of them and place them on a table in the lab.
Use an adult to fill the pot with salt water, heat a stone and boil the water.
Drag an adult to the table with the flowers to make soap.
When the water disappears from the pot, drag an adult to it and they will stack the soap on a rack.[1]
References
---